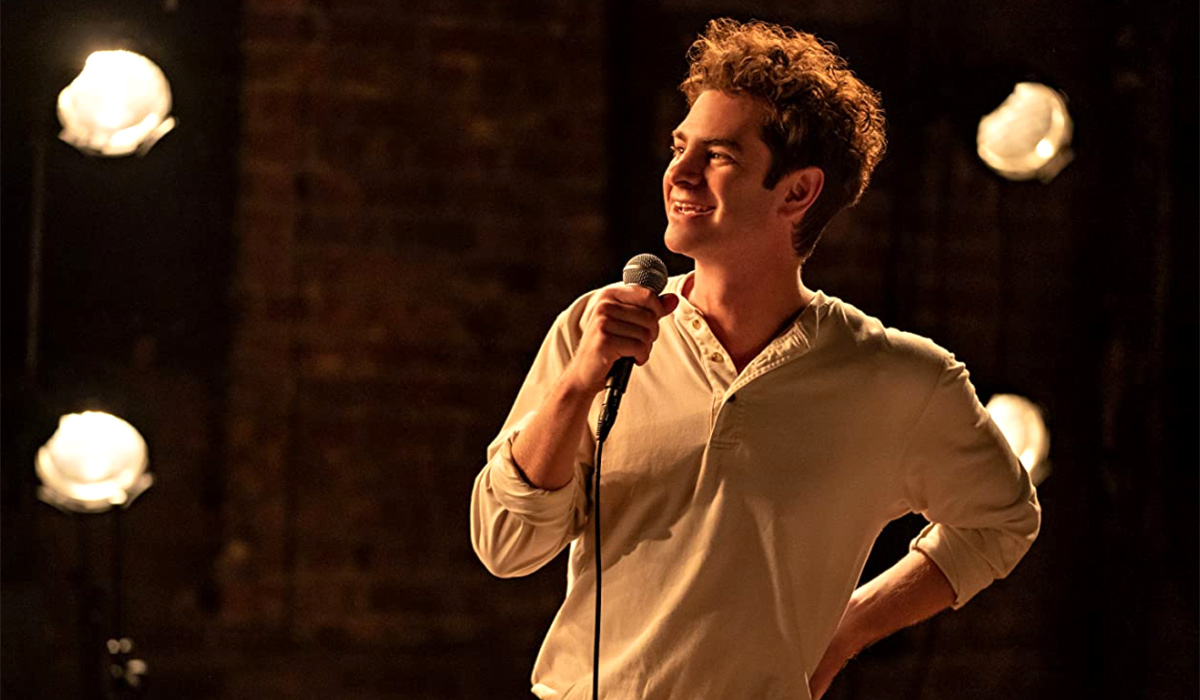 A self-promoter promotes Broadway's political cult.
'What's stopping you?" the hero of tick tick . . . Boom! asks a fellow careerist, who answers, "Jesse Helms and the Moral Majority." It's a stale joke, taking us back to the Nineties, a time when many arts institutions, including the New York theater world, targeted their political and cultural enemies as a sign of integrity. Tick, tick . . . BOOM! romanticizes the political disdain still raging among Broadway liberals.
This biopic, saluting Broadway composer Jonathan Larson, is a convoluted adaptation of the only theatrical production Larson wrote before Rent made him posthumously famous. Lin-Manuel Miranda directs the film with both personal and political sympathy. He shares not only Larson's inordinate acclaim (Rent was the most venerated Broadway show of the past quarter century until Miranda's Hamilton) but the egotistical politics that come with it.
Both men's legends and their self-importance merge through Jon, a wannabe Broadway composer (he's the aforementioned careerist) who, like Larson, dreads that, with his 30th birthday approaching, he'll never best the Broadway debut, at age 27, of his musical-comedy idol, Stephen Sondheim.
Andrew Garfield plays Jon as a creepy mouth-breather, counting down to success or implosion. Unable to complete a key song for an upcoming showcase, Jon annoys his adoring girlfriend Susan (Alexandra Shipp) and best friend Michael (Robin de Jesus) by flaunting his hyperactive, unrecognized genius. No support system is large enough for Jon, who rebukes Michael for his advertising job ("It's tricking people into buying s*** they don't want"), a profession no different from show business itself.
Jon's workshop musical, Superbia, is petulant, derivative, and mediocre. The Larson compositions overuse lists as lyrics, obvious rhymes, and piano-based anthems. One big number is called "Action Speaks Louder Than Words." Another, "Johnny Can't Decide," suffers from a repetitive vocabulary. Its "decide, decide, decide" refrain rips off the Talking Heads song "Tentative Decisions," minus spirited pop ingenuity. David Byrne and band had teased the crises of gender relations and social-role expectations. ("The boys want to talk about those problems / And the girls say they're concerned with decisiveness.") Its brilliance showed why rock's emotional directness surpassed dull Broadway convention. But Jon/Larson concocts existential angst through strained, hackneyed contrivances.
It's hard to take tick, tick . . . BOOM! seriously when show-tune formula is chosen over spirited pop-music articulation. Jon/Larson's sensibility mistakes sub–Steven Sondheim cynicism for sophistication. "Everyone's unhappy," Jon yells at Susan. "That's what New York is!" That's how Broadway mavens justify their own corruption.
Tick, tick . . . BOOM! epitomizes the close-mindedness of contemporary Broadway, the big-ticket tourist trap. Jon's bubble of enablers feels like a dress rehearsal for Rent. His story trots out the same character types, creative-class snobbery, and self-serving platitudes that have become showbiz orthodoxy.
So what's this Inside Broadway vanity project doing on the big screen? Broadway is no longer America's lingua franca. The myth of its cultural standing is sustained only by the media's determined effort to assert the hegemony of the ruling elite — thus the Hamilton phenomenon beloved by Hollywood and the Beltway but that pop audiences rejected.
Now here's Miranda taking up Jonathan Larson's mission. Miranda's fast-track careerism has had three film productions this year: Encanto, In the Heights, and tick, tick . . . BOOM! The latter is his film-directing debut, as if rivaling the prodigious Laurence Olivier, Orson Welles, Sacha Guitry, and Noel Coward, which he can't.
Tick, tick…BOOM! is marked by prismatic flashbacks, Seinfeld stand-up routines, and unrelenting smugness. Then, during Larson's anthem "Sunday," Miranda calls in fellow Broadway narcissists — "legends" — such as André De Shields, Renée Elise Goldsberry, Joel Grey, Bebe Neuwirth, Bernadette Peters, Phylicia Rashad, Chita Rivera, and Phillipa Soo as his Broadway-liberal flank.
Tick, tick…BOOM! uses the Jonathan Larson careerist cult to promote Broadway narcissism. It's the most obnoxious showbiz biopic since De-Lovely disgraced Cole Porter.